Introduction
In order to go by a day's chores with a fully functional brain and body, a good night's sleep is essential. Believe it or not, your mattress plays the biggest role in providing you with that. It is not only about comfort, but your body needs firm support throughout the night. Going cheap on it now might even drain your bank account later on multiple medical expenses. So there are a number of factors you need to consider before you buy a new mattress. Read on to find out more.
Types Of Mattresses There In The Market
There are various types of mattresses available in the market and each has its own feature. So while buying a new mattress, a confusion is quite normal. Below you will find detailed information on each type of mattress found in the market, so you can make an informed decision.
Innerspring Mattress
Innerspring or coil mattresses are among the most popular ones. These consist of steel coils enclosed in cushions, usually of cotton. Depending on the shape, size, and a number of coils, there are a number of variants of this kind of cotton mattress available – continuous coil, Bonnell, offset, and marshall or pocketed coil.
Advantages:

Innerspring cotton mattresses are sturdy and give more support.
They are durable.

They transfer motion on the bed better.

They are cheaper and easily available.

Disadvantages:

Cotton mattresses tend to wear out easily.
They are more springy and bouncy, and some variants of them make a lot of squeaky noise.
They might be too hard to sleep on for some people.

Is it right for you:

Cotton mattresses are ideal for side and stomach sleepers.
These help people with back pain.
These offer more convenience of movement in and out of bed, making them quite beneficial for really overweight or sick people.
Latex Mattress
Natural latex foam mattresses are one of the most eco-friendly mattresses you can opt for. If you are looking for a natural bedding solution, look for organic natural latex mattresses, as opposed to synthetic latex which is not so eco-friendly. Latex foam mattresses provide firm and bouncy support uniformly throughout the bed.
Advantages:

Latex mattresses are really durable – some of their warranties are known to last up to twenty years.
They are firm, yet very comfortable.
They absorb movements, and maintain their shapes with movements on the bed.
Some forms of natural latex mattresses also have anti-allergen properties and being organic, feature the least off-gassing of all.

Disadvantages:

Natural latex mattresses are more expensive than the others.
They are heavier and are difficult to move, which some people may consider as a disadvantage.

Is it right for you:

Latex mattresses are the best combination of support and comfort, and hence, are the best for relieving pain.
Because of the movement absorption feature, natural latex foam mattresses are great for more than one person sleeping on the same bed peacefully.
Airbeds
Air mattresses look like standard innerspring cotton mattresses, replacing the coils with air-filled chambers, and the cushioning with a foam layer.
Advantages:

The best feature of airbeds is the separate right and left chambers which can be set for two sleeping partners' separate sleeping preferences.
These do not sag as easily as others.
They are made of PVC, which minimizes and often completely nullifies off-gassing.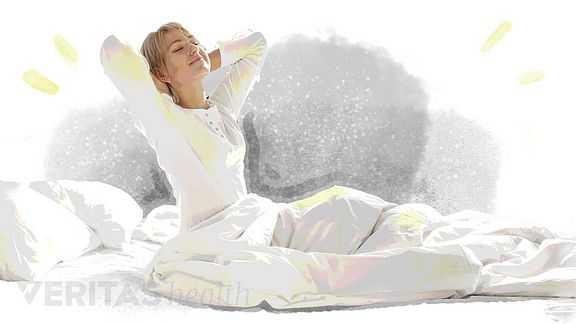 Disadvantages:

Assembling the mattress can take a long time.
It is expensive because of the high-end technology that is used in it.
While you set up the mattress, you need to use exact settings, otherwise you risk more back and neck pain. So you might need a professional to set it up for you.

Is it right for you:

Airbeds are one of the few options you can go for if you have special sleeping preferences, or you and your partner prefer to sleep differently.
These allow a change in the pressure of the mattress, so are great for injured patients who need to spend a long time in bed.
Waterbed Mattress
A waterbed mattress consists of a chamber of water padded with foam or fibres. The water can be in a free-flow chamber where it moves freely from one side of the mattress to the other, or a limited-flow "waveless" chamber, where fibres limit the water's movement.
Advantages:

Waterbeds give good support to the back.
Waveless waterbed mattresses can be separated into chambers like airbeds specific to two sleeping partners' preferences.

Disadvantages:

You have to maintain the right heat level in these mattresses at all times which will cost you electricity.
The assembling and disassembling takes too long. This also makes it too inconvenient for shifting.
There is always the probability of puncture and leakage, which will cause a disaster.

Is it right for you:

Waterbeds are best for back sleepers.
Two partners with different sleeping preferences can choose it.
Memory-Foam Mattress
Memory-foam mattresses are made of layers of different densities of foam that respond to weight and temperature. It contours to the specific shape of your body making it extremely comfortable, and also bounces back to its initial form easily once the weight is lifted. These consist of almost everything you would ever want in a mattress.
Advantages:

Memory-foam mattresses are extremely comfortable.
They offer pressure point relief and hence, relieves as well as prevents pain.
They correct your spinal alignment in any sleeping position,
They offer little to no motion transfer.
They are highly resistant to dust mites and allergens.
Because of their special feature, they do not even sag.

Disadvantages:

The only major limitation of memory foam is that being temperature sensitive, they contain the body heat in them, and can make you feel excessively hot during the night.
If not cared for regularly, this sweat can get accumulated making it a breeding ground for bacteria. So they might end up emanating a bad odour after a while.

Is it right for you:
If the temperature rise does not bother you, memory foam is the most comfortable mattress you can opt for. Particularly, if you have chronic fatigue issues, or muscle pain, or are a restless sleeper, memory foam is best for you.
Note:
In case the temperature does trouble you, alternatively you may use Gel mattresses. These have all the features of a memory foam mattress, except gel is infused into the memory foam to reduce its affinity towards trapping heat. However, they may be slightly more expensive than their memory foam counterparts because of this extra feature.
Hybrid Mattress
As the name suggests, hybrid mattresses are a combination of some or all of the material mentioned above. You can customize them up to your specifications. They are getting increasingly popular these days because of this flexibility they offer. Having said that, they are also costlier because of this specialty.
Points To Consider When Buying A New Mattress
As we explained the features of each mattress, it is important that you understand what will suit you the best while buying a new one.
Prioritise your own needs:
Remember you are buying the mattress for yourself, and no one else. So understand exactly what you need before going to a shop – the firmness, the size, the comfort, as well as if you have any sleeping preferences. A mattress can be the most popular in the market, yet may not suit you. Don't hesitate to state your particular preferences.
Sleep defines a lot of aspects of your life, so do not compromise on comfort. It is important that you test a mattress if it suits your particular requirements. Lie on the mattress for 10 to 15 minutes and examine it well. This way you can be sure of the support it can offer on every sleeping position.
Don't buy mattresses online. If you do, read consumer reviews and take recommendations from others.
Do not trust labels or sales-speeches:
Do not trust any label pasted on a mattress as "orthopedic" or "medically-approved", or even "firm', "medium-firm", or "extra-firm" – even if a salesperson tells you so. Know that neither there is any particular medical association that approves mattresses, nor any one "firmness" chart that suits all. Test the mattress yourself.
Inquire details of all the "guarantees" that come with a mattress:
Many retailers offer a "comfort guarantee" period, but unless you ask for it, they may not tell you. Be sure to understand all the details about shipping charges, a money-back guarantee, or an exchange, time-frame of so, etc. before you sign the papers for delivery, so they cannot scam you.
Good mattresses, especially natural latex mattresses and memory-foam mattresses, have a minimum of a 10-year full replacement or non-prorated warranty. Do not forget to request for it.
Go for a shop with varieties:
Remember, you are buying something that is supposedly going to stay with you for a very long time. So shop at a store specialized in mattresses where all the varieties will be available, so that you can choose well.
If you have a medical condition, definitely check with your doctor before visiting the mattress store.
Conclusion
Research well before you go to buy a mattress. You might end up regretting your decision if you just go by the names and popularity – whether it be a cotton mattress, a natural latex foam mattress, or a memory-foam one. Learn about these different types, and have a thorough knowledge of the mattresses available in your area. Moreover, learn how each of them look and feel before you go to a shop, so no one can take advantage of you. Either way, to be on the safe side, always research the shop well from before, and only choose a well-reputed and certified mattress shop.