Picture this – you make a frightening and exciting decision to remodel your home. Of course, you may try handling the project yourself. However, most of us may prefer consulting a plumber, electrician, and probably a carpenter before making the decision to buy something in a hardware store.
It is normal to require other people's professionalism to address the issues at hand. And usually, projects go more successfully and faster when experts communicate with one another. In the medical sector, this practice is referred to as interprofessional collaboration.
What Interprofessional Collaboration Is
This is an approach where individuals from various occupations collaborate to attain common goals as well as solve complex issues. In the medical care industry, facilities using this approach often seek to improve accountability, autonomy, communication, and awareness in the workplace.
With several specialists dealing with the same patients, the last medical report on a patient's problem will become more detailed and holistic. This, in turn, can help a collaborating physician for nurse practitioner diagnose a patient's problem more effectively.
The Basics
Interprofessional collaboration is more of data communication and how health specialists from different professional backgrounds can use the said data to create care or action plan.
The key goal of the healthcare team is to concentrate on how the medical care of patients can be enhanced through the staff's teamwork and collaboration.
Collaboration makes multifunctional staff more innovative, efficient, and effective. Collaborating team members, including a collaborating physician doctor in US, must also exist in the medical continuum, from palliative and rehabilitative care to primary and preventing care.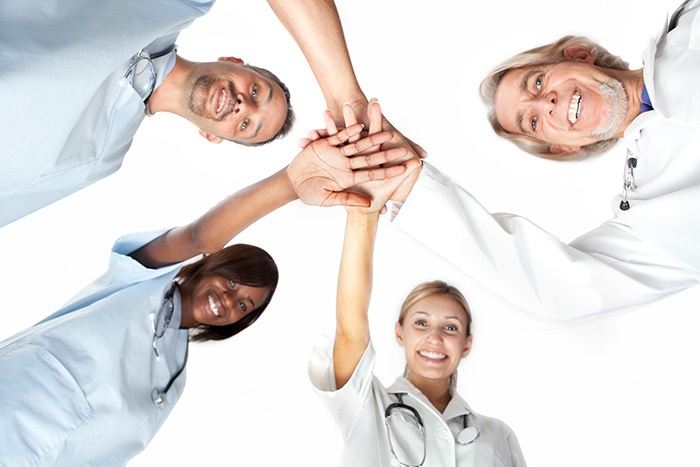 Benefits
Every medical care expert must gather information about patients, analyze possible treatments, and guide the care of patients with proper interventions.
Different specialists and professionals work as a team through this interprofessional collaboration practice to develop proper care strategies.
Medical experts, including technicians, therapists, pharmacists, physicians, and surgeons, should take more time to collaborate to provide proper patient care effectively.
For instance, for complicated illnesses, such as cancer, the interprofessional collaboration will help treat a lot of potential complications, symptoms, and medication side effects. So without further ado, the following are key benefits of interprofessional collaboration:
1. Improve Patient Outcomes and Care
Imagine this – patients walk to the ED (emergency department) complaining about chest pain. An ED physician looks at the patients, followed by an experienced cardiologist who orders tests and waits for results from a radiologist, who then confirms what both specialists suspected – the patients are suffering from a heart attack.
All these medical experts have valuable and perspective insight about these patients. Plus, they work together for the betterment of those patients.
2. Close Communication Gap
When healthcare and medical experts work together, a far more communicative environment establish. With increased interprofessional collaboration, healthcare experts interact more personally, working together and sharing ideas to treat patients.
Final Touches!
When done well, interprofessional collaboration may result in improved patient safety and better result. So through practice, nurses and doctors will be able to use their experience and skills to ensure patients get better treatment.